Heat Your Floors
ComfortTile Radiant Floor Heating Systems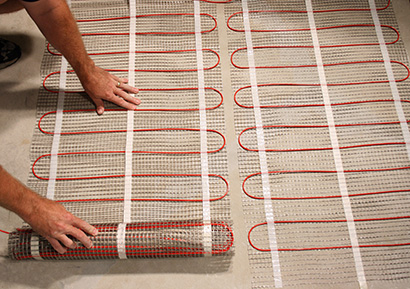 The ComfortTile floor heating system from Warmzone uses one of the thinnest heating cables available. The heat cable is only ⅛-inch in diameter. This high quality heating cable has a copper nickel alloy conductor, is insulated with a thin layer of Tefzel, and is protected by a stainless steel braid.
ComfortTile radiant heating cable is designed to generate 10 to 15 watts per square foot, which is enough to provide sufficient heat for an entire room in most situations. Tile setters and installers can install tile or other flooring over a floor heating system without worrying about cutting or damaging the cable because of the durable cable's thin profile and protective covering. This system is easy to install and comes with an impressive 25-year warranty.
System Components and Installation
The ComfortTile heating cable can be installed by any "do-it-yourselfer," contractor, or electrician. The thin cable and unique spacing gauges allow the system to be custom fit into any size or shaped area. A programmable, 7-day setback thermostat is included in the system pricing.
Because of the thin cable (with a diameter of only ⅛-inch), it can be installed directly in the thinset. No additional mortar is needed, resulting in zero floor buildup. The cable can be installed directly on the wood subfloor or on a concrete board. The cable is spaced at 2-inches to obtain 12-watts per square foot, which is recommended for space heating and supplemental floor warming in most situations. This high quality product offers excellent results and competitive pricing with price of under $9 per square foot when heating more than 65 square feet. For help determining the heatable square feet for your project, visit the ComfortTile sizing chart.
Programmable Thermostat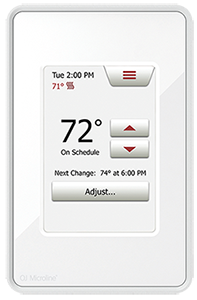 The ComfortTile heating system is controlled by a thermostat with a built-in GFCI and in-floor sensor. This programmable thermostat has a built-in clock function that allows you to set four events per day, including weekday and weekend settings. The temperature can also be temporarily changed for a single event, then it will return to the schedule on the next programmed event. View more information on this thermostat.
TECHNICAL SPECS
TEMPERATURE CONTROL
Microprocessor-optimized PIA Heating cycles: 15 minutes accuracy: ± 0.5°C / 0.9°F
SWITCHING ACTION
Epoxy-soundproofed relay: Quiet operation
PROGRAMMING
7-day, 4 time periods/day, 2 temp. settings; Pre-programmed or personalized schedule; Early start function; Selectable 12- or 24-hour format / °C or °F
DIMENSIONS (HxWxD)
124 x 70 x 23 mm / 4.9 x 2.8 x 0.9 inches; Floor sensor: 4.6 m / 15 feet
FEATURES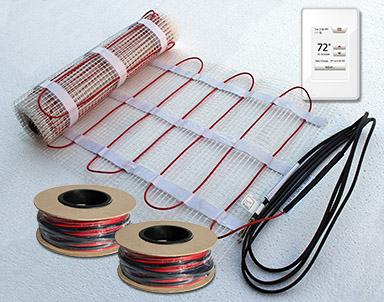 ● Ground Fault Circuit Interrupter (GFCI) included - no need to buy separate safety cutoff
● GFCI test light verifies safety cutoff is functioning properly and alerts if a leak is detected
● Advanced temperature control ensures total comfort by minimizing temperature variations
● ON/STANDBY switch enables thermostat shutdown at end of heating season for added security
● Remote input works with phone or alarm system (telephone controller required)
● Temporary bypass enables temperature override without changing programming
● Battery-free backup means no re-programming your schedule after power outage
ComfortTile Floor Heating System Information
» Installing Heated floors - Overview
» How to Install Heated Tile Floors
» ComfortTile Product Literature
» Electric Floor Heating Systems