Radiant Floor Heating Systems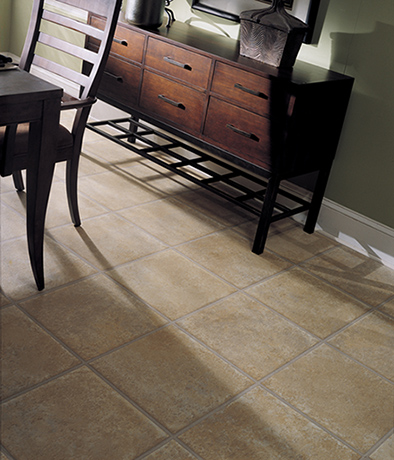 Radiant heated floors are an efficient way to heat your home. Heated floor systems radiate heat from the floor up, keeping you warm and comfortable during the cold winter months. These efficient systems boast virtually no wasted heat, and the exquisite comfort must be experienced to be truly appreciated. As far as home improvement projects go, heated floors are an economical way to update your home, enhance efficiency, and boost your equity.
» View ComfortTile Floor Heating System Product Literature
ComfortTile floor heating systems offer the premium performance expected from an industry leader. The floor heating cable is just ⅛-inch in diameter and is available off the spool – which is ideal for heating custom shaped areas – or pre-spaced on a durable adhesive-backed flexible mesh mat. The mat can be quickly rolled out for easy, convenient installation. The mats heat an area 24-inches wide, are pre-terminated for use with 120 and 240 volts, and are available in a variety of lengths.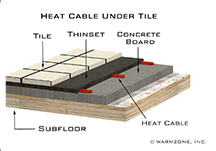 The ComfortTile floor heating system is an industry leader and comes with a 25-year warranty. The radiant floor heating systems provide efficient room heating and reduce the transmission of dust, allergens and other airborne particulate matter associated with forced air systems.
ComfortTile heat cable can be installed on a variety of subfloors, including: plywood, concrete, pre-stressed concrete panels, crack isolation membrane or any floor surface compatible with the adhesive. Depending on your subfloor, thinset or mortar is applied directly over the heat cable, followed by the installation of the tile.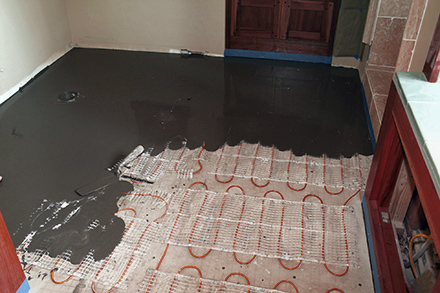 In addition to electric heated floors, hydronic floor heating systems are also available. Both electric and hydronic floor heating systems feature a series of heating elements under the surface of the floor. Electric systems use resistance heat cable while hydronic systems utilize a boiler to heat specially treated water that is pumped through a closed loop of Pex tubing installed under the floor. Each room, or zone, is controlled by an advanced thermostat that has either an ambient temperature sensor, or a floor temperature sensor or both.
Radiant floor heating systems feature advanced thermostats that can be programmed to heat specific rooms and areas of your home at the times you designate. For example, you can program your floor heating system to activate shortly before you arise each morning and then shut off when you leave for work. Then you can have the system turn on again shortly before you get home for the evening. This ability to program your heating system and warm the specific rooms you want allows this home heating solution to be the most efficient heating system possible. You'll not only enjoy supreme comfort in your home, but you'll also enjoy an affordable means for making your home comfortable.
For more information on ComfortTile radiant floor heating systems, call 888.488.9276 and speak to a friendly radiant heat expert and learn what floor heating option is best for you.